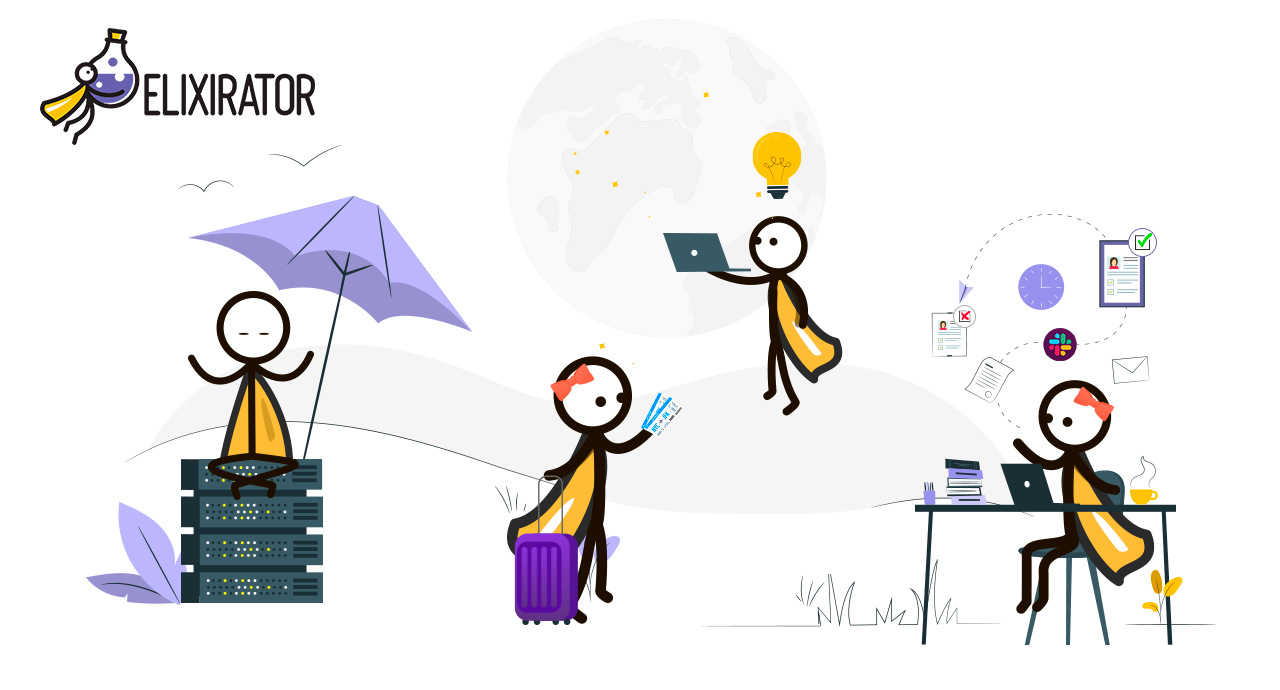 by Kateryna Shubina
Feb 23, 2020
Talent managing remotely. Tips and tricks
Every person knows there are many benefits from working remotely. Literally, you can enjoy your lifestyle every day and there is no need to change it. Otherwise, working remotely can be tricky as you need to be able to keep yourself productive, manage meetings within different time zones, etc.
At Elixirator we do full-stack development remotely and enjoy our life together in the team. Having strong communication between teammates is very important that's why we have a special role Talent Manager.
A talent manager is a person who is responsible for weather at Elixirator, really, taking care of Recruitment, HR processes, administration and event management.
Whether you are starting out or already have a remote team, I would like to mention the following tips to build better communication at your company.
1. Hire the right people
It's not only important to hire a skilled engineer but the right personality. At Elixirator we have created a friendly atmosphere where we don't only do our jobs well but share experiences, new achievements, personal successes or dreams. You should hire people who are open-minded, self-driven, disciplined and have the purpose to work remotely. It will help to keep the right atmosphere and avoid conflicts.
2. Set up remote policies and clear onboarding process
When you start your job at the office, it's relatively easy to ask any questions during your first day. But when the team is remote a new teammate is isolated which means that any remote company should have a smooth process of onboarding to avoid "stupid questions". At Elixirator we have developed remote policies and prepared a detailed list of onboarding steps for a new teammate. After that, we usually conduct an introductory meeting where we go through the responsibilities, project details and all the information needed to start the first working day effectively.
3. Set up an instant communication messenger
We use "Slack" which helps the teammates always be in touch and have fast communication whether you need to send a message or have a quick call. You can create different channels there: work or non-work related.
4. Conduct regular meetings
Scheduling regular team meetings is an important way to keep people connected within a company. We suggest you organize regular weekly meetings of engineers with a Project Manager and one-to-one monthly meetings with a Talent Manager. It will help you to keep teammates productive in both directions work and non-work related. Once a week we gather together on a call for a Friday talk just to see each other and discuss our daily life, travel plans, and just funny news. It's a great way to laugh together of jumping cats, seeing big palms or fancy drones:)
5. Set new goals
There is no difference whether you work at the office or remotely. It's still important to feel like part of a team not just like a contractor who is doing his job well. Setting up new goals helps teammates to develop their skills and feel that it really matters how you do and what you feel at the company. We suggest you set up new goals every six months for engineers and encourage their professional development.
6. Invest in professional development
It's important to make sure that every teammate has all the necessary tools and possibilities to do their jobs productively and as well to develop themselves. We encourage Elixiratorians to take part in conferences and learn English with native speakers. It's also fun to grab some nearby people and go to attend any meetup or conference. All that is a part of the benefits package for Elixiratorians. And, of course, we love traveling and always happy for the team-mates who can live in different places and exchange knowledge with other digital nomads. One Elixir-maker spent 6 months in Bali with his family and another engineer is spending 7 months every year in Thailand. Sounds cool, is it? Our aim is to see our team happy and satisfied:)
7. Don't overtime your remote team
To be productive, we are trying to care about the work-life balance of teammates. Some people work all day and forget about their personal life. You should track the time dedicated to every task of your teammates. It will help to prevent them from "burn out" and keep healthy and productive work-life balance.
8. Ask for feedback
Following all the steps mentioned above is great but you always need to remember to ask for feedback to improve your approach. We run surveys to gather important feedback from our engineers. It's important to know how everyone is feeling and stay always connected.
9. Organize offline events
When you live in different countries it's not that easy to organize any offline event. It takes much time and effort but still worth it. We can truly enjoy our life only being in real contact with someone and sharing all emotions at the current moment. Go skiing, hiking, swimming and spend a few unforgettable days with your teammates before starting new professional challenges. This summer we are going to spend in beautiful charming Spain enjoying its seaside and tasty wine. Sounds like a cool plan?
Having questions or would like to join our Elixirator family to solve new challenging tasks and go for adventures. We are eager to hear from you at talents@elixirator.com.
Also recommended